Life as an estate agency apprentice
11 August 2021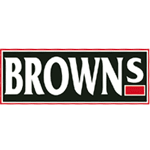 Meet our newest recruit, Olivia!
After joining the Browns team in June 2021 to complete her Sales/Lettings and Valuation Administrator Apprenticeship, Olivia is currently working towards her Customer Service Level 2 qualification, with hopes of becoming a fully qualified estate agent in the future. We have caught up with Olivia to find out more about her role at Browns and her journey as an apprentice so farÖWhat made you want to work in estate agency?
I have always wanted my own home since I was little to decorate and clean. I used to look at different houses online and imagine how I would style them to make a lovely home for different people. Working in estate agency, you get to visit new places and meet different people and that is something I love to do. I want to make people happy by helping them find their dream home. Why did you apply for an apprenticeship?
I had several part time jobs, such as working as a part time care assistant, supermarket worker and a hair salon receptionist, and I really wanted to work my way towards a career. I want to have a good future where I can support myself and be happy, and I know that an apprenticeship is an amazing way to start working towards that goal.What does your job role consist of?
My job role is really varied, covering everything from creating files to arranging viewings and appointments for customers. Some of my main responsibilities include creating paperwork for surveyors, undertaking administrative letting duties, helping with maintenance work orders and referencing, and compiling final valuation reports using Microsoft Word. I also carry out daily checks on our social media and come up with marketing posts for our channels. I currently assist other members of staff with viewings, but once I am fully trained and confident, I will be carrying these out unassisted. What are you enjoying most about working at Browns so far?
I love working with my colleagues and getting to know new people by assisting them. I also love learning new things about the estate agency industry that I didnít know before.What does a typical day-to-day routine look like?
As soon as I arrive in the office, I check on my emails and complete any outstanding work.As you can imagine, the phones ring regularly throughout the day, so I will register clients into the system, book them in for viewing different properties, or help them with any enquiries they may have.Depending on the day, I may go out with colleagues to inspections and help by handling the keys for different check ins and check outs. I also file and deal with contractors, always complying with GDPR. There is so much that I do and no day is ever the same, but I love it!Most important lesson you have learned in your working life:
Those who are willing to learn and put all their effort into doing something they love, are those who succeed. I believe you should always try and learn new and different things, and better yourself as a person. If you could live anywhere, where would it be?
I struggle choosing between Greece and Japan! I would love to live in Greece and wake up to walk along the beach every morning, however Japan would be amazing to learn about the culture and explore different places.What would your dream house include?
In my dream house I would have a massive bedroom and a huge closet, plus a spare room for gaming. Iím still planning how I want it to look!Which is your favourite room in the house?
My favourite room in the house would have to be the living room. My dad and I would sit in the living room and watch TV, play games or just chat with each other Ė I have a lot of fond memories in my living room. What was your favourite subject at school and why?
My favourite subject at school was English. I loved writing and reading Shakespeare with my class, especially Hamlet.I enjoyed writing fiction stories using my imagination and writing non-fiction, such as newspaper articles.What do you like to do in your spare time?
I love to read, listen to music, and play on my Xbox.I also love watching anime, which is a hand- drawn and computer animation originating from Japan.Tea or coffee?
Both! On a morning, I have to have a coffee to give me a burst of energy to start my day, but I always have a cup of tea on a night to relax me before I go to bed.Favourite pizza topping?
Pepperoni, onions, and peppers.Do you have any pets? If so, what?
I donít have any pets at the moment. I had a dog named Milo who was 9 and my best friend, but he sadly passed away in 2018.If you were an animal, what would you be?
I would be a red fox, as they are my favourite animal. What is your proudest moment?
I made a pact with myself to go to college to study Health and Social Care for a qualification, that I would pass with great marks, and I did. I passed with a Distinction, and I am very proud of myself. What did you want to be when you grew up?
Before I was interested in estate agency, I really wanted to be an author/journalist. Describe yourself in three words:
Happy, clumsy and positive. Keep an eye out on our Facebook, Twitter and Instagram pages for updates on Oliviaís apprenticeship.