We're Trusted Agent Award winners!
14 July 2023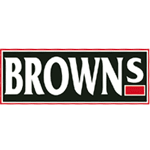 According to surveys, moving house is one of the most stressful things a person can do (and it's likely you'll go through it more than once). At Browns, however, we like to go against that trend, providing a hands-on, straight forward service to keep the process as smooth as possible - and that's why we've been recognised with a 2023 Trusted Agent Award for the second year in a row.
View Agents' Trusted Agent Awards are designed to reward agents for high customer satisfaction and exceptional service. The trusted platform asks buyers, sellers, tenants and landlords to share their experiences through reviews, before consolidating all feedback to evaluate standards. By rewarding exceptional customer service, View Agents builds credibility within the estate agency sector and helps customers feel at ease. Speaking about the win, our director Simon Brown said: "We've won several awards over the years, but ones that recognise our customer satisfaction levels always mean that little bit more, as it's an area of the business that we feel really passionately about. I'm delighted that our customers feel like we're providing a good service to them, and that our team have been rewarded for their efforts in making sure all customers have as straightforward a journey as possible and feel well-looked after.I want to say a huge thank you to our Browns team for their hard work, and to our customers for sharing their positive experiences."Looking to buy, sell or let? Try our award-winning service for yourself - get in touch today.