Coronavirus Update
14 May 2020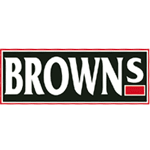 OPEN FOR BUSINESS - SAFELY -
Under new Government guidelines our Agency, Lettings, Valuation and Mortgage Advice departments are open.
The Offices will remain closed to the public so we are able to observe social distancing and virus protection measures.
We are working towards being fully open and operational as soon as possible.
The guidance makes it clear that wherever possible viewings and appraisals should be done virtually.
Please bear with us during this transition to our new working conditions
Our staff can be contacted by email or phone and will deal with your enquiry as soon as possible
Please see our attached link for our interpretation of safe viewing and appraisal procedure -
http://www.brownsestateagency.co.uk/news.asp?NewsID=136
We will keep in touch regularly with all our buyers and sellers and liaise with the solicitors Landlords and Tenants The team will stay in contact with Landlords and Tenants. Please call us for current procedures We will do everything possible to help. Please stay safe and we will all get through this.