Valuations and surveys
If you need a mortgage to buy your new property, your lender will insist on a surveyor's valuation of the property before agreeing to provide the mortgage. The fee will be dependent upon the purchase price although some lenders have set scale fees.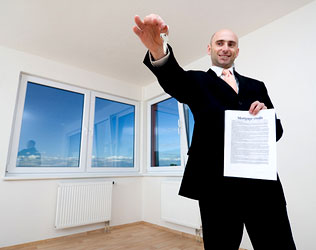 Also in this section
A valuation is a property inspection undertaken for the sole purpose of deciding on the amount and terms of any loan. The extent of the inspection is very limited when compared to a survey. No potential buyer should rely solely on the information provided by a mortgage valuation when deciding whether or not to purchase.
In certain instances, the valuation figure may not equal the purchase price. This may be due to the condition of the property or whether it is unusual or unique. If you recognize that you are already paying a premium for the property, this may be reflected in a differential between the purchase price and a valuation price.
A professional opinion of the property can be provided by a chartered surveyor. When previously undetected defects are discovered, it is often possible to renegotiate the purchase price to reflect the works required. There are two types of survey - a home buyers report and a building survey:
Home buyers report: This report focuses on the significant defects and problems that have an effect on the value of a conventional type of property. It will also confirm whether a property is in reasonable condition. Comment is limited to those areas that are accessible at inspection. To save time and money you could ask the surveyor who carries out the mortgage valuation report to also undertake a Home buyers report.
Building survey: This provides extensive information on construction and materials used as well as both major and minor defects. It is more comprehensive than a Home buyers report. Costs are dependent upon the size and nature of the property. The surveyor may recommend further investigation by an engineer or other technician. There may be grounds to go back to the estate agent and renegotiate the purchase price once the likely cost of repairs can be ascertained. Building surveys do not automatically include valuations.
Adverse comment on structure often leads to difficulties between buyer and seller. Quotations for the work should be obtained. A meeting between the estate agent and other parties involved often achieves the desired result.
For more information contact our surveys and valuations office.
Go to the next page for information about legal advisers.